Meet the Founder
Afrikan Goddess Lair was founded by Holistic Health Practitioner & Artist,Tiffany Collier Mcleod. With the need to share her story of overcoming PCOS (infertility) naturally and intention to assist other women with their wellness journey, Tiffany created the unique Women's Wellness platform in order to educate, inspire and empower women along their wellbeing journey and reproductive continuum. The holistic feminine products and wellness content are lovingly created with a purpose & desire to share vital wellness information, spread culture, and to share the art of self care that will inspire and bring harmony to the Goddess Woman. We welcome you to book a Wellness Consultation, as well as shop our collection of loose leaf tea blends and holistic feminine health products. Yes! We are available for private & mobile Yoni Steaming sessions, for women's gatherings, pamper parties or sister circles. Please email info@thegoddesslair.com for price and info.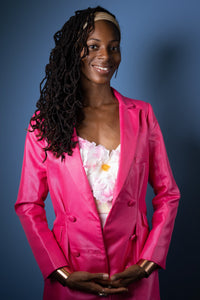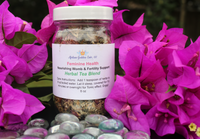 Fertility and Womb Balancer
A combination of herbs that nourishes the Female Endocrine System and supports Estrogen balance. This tea supports throughout a woman's life from menstrual discomforts to pregnancy and childbirth.
Order now
My testimonial
My beautiful first born, Mkeedah, She is 13 years old and she is the CEO of Mkeedah's Desserts and Vegan Treats she is very hardworking, so make sure to check out her website below and follow her Instagram your support is much appreciated !!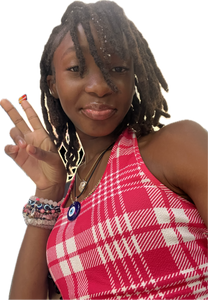 Testimonials of others
Tiffany's expertise on herbs and healthy living has allowed some shocking but welcomed breakthroughs to happen within my life. During our consultations, Tiffany made me feel so welcomed and throuoroghly explained everything in depth WE (she is truly the definition of we are in this together), were going to do to get my firbroids/cyst regulated.

Nadine R
Hello Mrs. Lair, I purchased some tea for infertility from you exactly a year ago. I am pregnant and I'm actually due any day. I did your detox and then the fertility tea and was pregnant by the end of March!! Thank you so much.

Tea Blakeman
Tiff's products are absolutely addicting! I literally look forward to taking them throughout the day. I've suffered acne breakouts and when I say acne, I mean grade 3 form of acne; which has caused a lot of pain, physically, mentally, and emotionally in my life. I have missed lots of oppportunities because of it and have exhausted many avenues to get disheartening condition under control. With the combination of skincare products and internal cleansing, which I happen to believe is the very core for every condition or aliment. I can say with confidence that I am clear! Just hyperpigmentation and a little and a little scaring which is what I'm working on now. Tiffany and her products have not only given me back a large chunk of my confidence, but also what I feel like freedom.

Stephanie P
I always experience excellent customber service with Tiffany. She is very knowledgable of her herbal products and has helped me with my health transition so much. I am sincerely thankful for her help. My products were also packaged so beautifully and arrived quickly. Thank you this empowering wellness platform for women Tiffany!

Shalonda W